International Photo Competition on Sustainable Lifestyles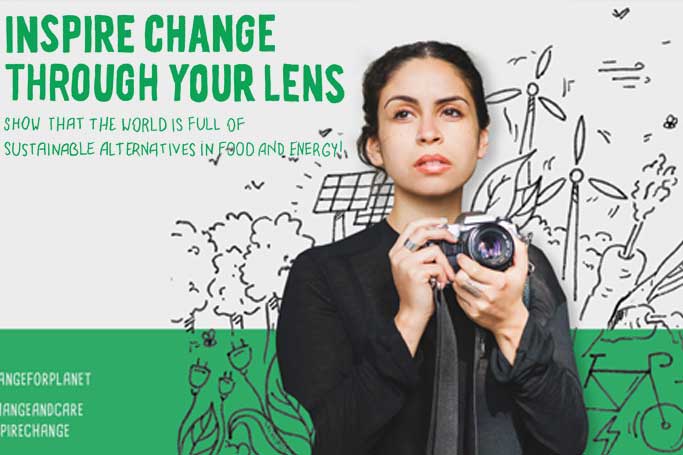 The CIDSE Campaign "Change for the Planet – Care for the People" invites you to participate in its first international photo competition. This initiative seeks to capture the imagination and creativity of photography enthusiasts – both professional and amateur – keen to share their special take on citizen-led initiatives around the sustainable production and consumption of food and energy around the world.
Show that the world is full of sustainable food and energy alternatives!
What do you or your community do to sustainably produce or consume food or energy? How does your sustainable lifestyle inspire change in the community?
If you're passionate about photography and enthusiastic about social and ecological change, submit your photo today! The competition closes on April 23rd.
Be creative! Be sustainable! Be thought-provoking!
Winning photos should:
Illustrate an alternative, environmentally and socially just way of producing or consuming food or energy;
Show a collective, people-driven dimension;
Inspire change!
How are photographs entered for the competition?
Participation is free and open to any person who is 18+ years old.
Please be aware that there are two categories and you must specify on the submission form which category you are participating in:
Adult 18+ amateur
* Participants who do not have a specific expertise or work-experience in photography.
Adult 18+ for professional photographers
*Participants with years of experience in the field or whose work/occupation is based on photography (i.e. photojournalists…)
Instructions
Take a photograph that illustrates what you or your community is doing to consume or produce food or energy in a sustainable way.
· If you take a picture with a camera, make sure that the photograph is High Resolution [1600 x 1200 pixels minimum]
· If you take a photo with a smartphone, make sure that the photo is Full Size [4MP minimum]
Fill in the online submission form with your name, last name, age, email, country, category under which you're participating.
Online submission form: https://changeforplanet.formstack.com/forms/photo_competition
On the online form, write a description/caption on the submission form of no more than 100 words (800 characters including spaces) describing what the image is, where it is taken, and how does it illustrate you or a community adopting a sustainable lifestyle/practice.
Submit the image in .jpeg/jpg format, indicating the name of the photographer on the picture's metadata [ex: surname_name.jpeg]. Name of photographer, agency or publication must not be visible as a watermark on the picture itself.
Read the terms and conditions (attached below) and check the box on the online submission form to agree before uploading your photo. Once done, upload your image in .jpeg/.jpg format via the form.
A notification will be sent once the entry is registered. If you do not receive the confirmation of your registration within a day, or you have particular inquiries concerning the photo competition, please contact the helpdesk at:
Scheda del concorso :
Sito Web :  http://www.cidse.org/articles/rethinking-development/photocompetition.html
Tema del concorso : • Take a photograph that illustrates what you or your community is doing to consume or produce food or energy in a sustainable way.
Scadenza del Concorso Fotografico : • 23 Aprile 2017
Chi giudicherà le foto in concorso : • Giuria
Quota di iscrizione : • Gratuito
Primo Premio: • 1st place
The two first winners will be invited to come to Brussels for the award ceremony and the inauguration of the exhibition.
2nd Place
Each winner will receive a DIY Bamboo Bicycle Kit
3rd Place
For the amateur category winner: a voucher from the Ethical Shop (Online)
For the professional category winner: a voucher from the Lomography Shop (Online)
Altri Premi: •
Informazioni Aggiuntive:  •

Sede Organizzativa : • http://www.cidse.org