International Photo Contest "Youth Eyes on the Silk Roads"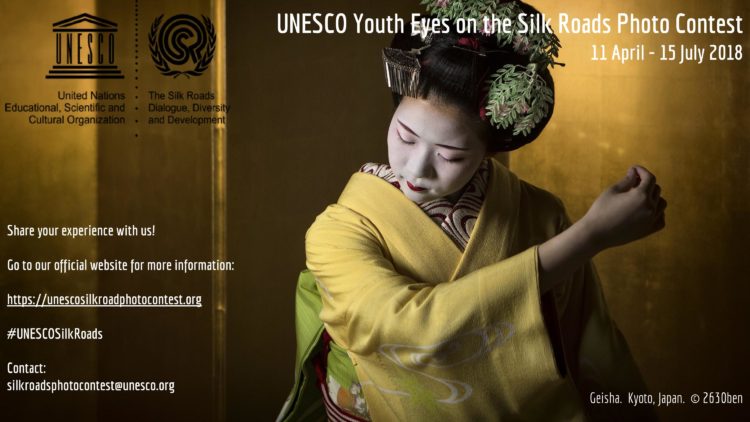 The International Photo Contest "Youth Eyes on the Silk Roads", taking place from 11 April to 15 July 2018, is organized within the framework of UNESCO Silk Roads Project, UNESCO Youth Programme and the International Decade for the Rapprochement of Cultures (2013-2022).
This initiative offers a good opportunity for young people from different regions of the world to visually capture their understanding and impressions of the Silk Roads common heritage in their respective countries.
Sito Web : https://unescosilkroadphotocontest.org/en
Tema del concorso : • Culture, Landscape, Monuments, People
Scadenza del Concorso Fotografico : 15 Luglio 2018
Chi giudicherà le foto in concorso : • Giuria
Quota di iscrizione : • Gratuito
Primo Premio: • The contest will culminate with an awards ceremony, with three winners being selected from each category. First place winners will receive a professional camera. Second place winners will receive a semi-professional camera, and the prize for third place will be a standard-model digital camera. In addition, winners will receive an all expenses paid trip to the ceremony. Those under 17 years of age may be accompanied by one other family member, courtesy of UNESCO. A travelling exhibition of fifty photos which best represent the spirit of the contest will start its tour in UNESCO HQ in Paris, before travelling to other countries. To commemorate the occasion, these exceptional photographs will ultimately appear in a professionally bound collection of printed images.

Altri Premi: •
Aggiuntive: •

Sede Organizzativa : • Road